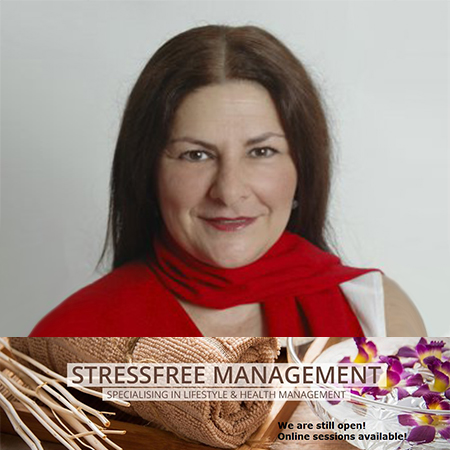 Stressfree Management® - Jenetta Haim
Clicking on the Send Me Details Now button opens an enquiry form where you can message Jenetta Haim directly
Send Me Details Now
We are a natural therapies clinic that specialise in empowering you so you can get healthy and know how to stay healthy.
Stressfree Management
Servicing area
Greystanes, New South Wales
---
Focus areas
Supervision
Tinnitus
Arthritis
Heart disease
Menopause
Bullying
---
---
10% off your first session when you mention Natural Therapy Pages
---
About Us
We help you balance your lifestyle by teaching you techniques that you will use the whole of your life. You will also find your family life is better, you are empowered regarding your money and success and you have more energy.

Whether you are stressed, cant sleep, want to give up smoking, lose weight, improve concentration and memory, lower blood pressure and cholesterol, need to handle PMT and menopause, want to get rid of headaches, deal with arthritis, aches and pains, have low immunity or any other physical, emotional, spiritual issues we can assist.

Corporations come to us to help their staff learn to de-stress in the workplace. We help your staff to learn better communication skills and teamwork and we educate them how to focus better on the job and look after themselves well. This will decrease staff friction, sick days, workers compensation, increase staff loyalty, productivity and also your profits.

Every session will be tailored to your needs whether you have come to us for a personal or corporate session. We combine our skills in managing stress, naturopathic nutritional advice, Reiki, Hypnotherapy, NLP, counselling, energy healing and testing for sensitivities and inflammation to help you clear whatever is holding you back and develop new positive habits to guide you on your journey on all levels of your life.
---
Opening hours are BY APPOINTMENT ONLY
Tuesday to Friday 10am to 8.30pm

Saturdays – 10am to 5.30pm

Closed Sunday, Monday
Call me to enquire for session availability and costs
---
PERSONAL TESTIMONIALS
Hey Jenetta,

I feel like I am back to my old self now which was my main intention when I first started coming to you. You did wonders for me. You listened and I didnt feel like I was seeing a naturopath, I felt like I was seeing a girlfriend. Sometimes it was just nice to get things off my chest and not be judged and that was a great stress relief. Thank you for the wonderful reiki sessions. I am a much happier individual 🙂

Take care xx
S.M Merrylands

My start weight was 77kg; I am now 61kg and still losing. My goal is 55 kg. Surprisingly it has not been difficult at all. I am not feeling sluggish or gross anymore. I am feeling really well. Less than 70kg was a huge shift for me. I had never been that low before and never thought I could do it. Once I was there I figured I would just keep going.

H.T. Greystanes November 2014

I was so angry when I first came. Angry that I had to be here to talk about my personal stuff. Angry at Jenetta because I really didnt want to answer her questions. I hadnt really wanted to come. I thought, why the hell do I have to even be here? Anyway after about 10 minutes thanks to Jenetta I felt so much calmer and realised Thank God I am here 🙂

A.D Bonnyrigg NSW

Stressfree Management are very professional and accommodating to clients. They have helped me with a number of things and i highly recommend them.

Stacey Renner August 2016

I wasnt a believer in hypnotherapists but when I got ill my wife decided I needed to see one. Glad she found Jenetta. Jenetta has worked wonders for me. Shes very experienced, caring and passionate. Im very happy with her work.

Kuzman67 April 2017
---
SERVICES
SENSITIVITY TESTING
Are you sensitive to wheat, yeast, lactose? Does your stomach get upset when you eat chilli or do you get bloated when you have potatoes? Do you sneeze when you are exposed to certain plants? Are you sensitive to dust?
LIFESTYLE PROGRAMS
PERSONAL When is going to be the right time for YOU to do YOUR thing? How long have you been putting off all those things you have wanted to do?
COUNSELLING
There seems to still be a certain pattern of thinking in our society where counselling is concerned. We unfortunately live in a society where many people subscribe to the idea that they can go it alone and and 'she'll be right mate'.
REIKI
Reiki is the movement of energy in the body which precipitates the bodys natural healing processes. When one attends a Reiki session the client usually need do nothing more than sit or lie comfortably. Often they may experience heat in the area where the practitioner places their hands, or even cold.
AROMATHERAPY
Aromatherapy is not just a case of making the room smell nice or playing with sweet smelling oils. Aromatherapy is a method of enlisting one of our most powerful senses the sense of smell to help alleviate illness in the body.
DIET AND NUTRITION
A nutritionist is a qualified specialist who treats disease in the body with the use of correct diet and health supplements namely food. Most illnesses are treatable through modification of diet and a number of herbs, vitamin supplements and various other remedies.
HYPNOTHERAPY
Hypnotherapy is a natural process that people go into mostly at night. The hypnoidal point is an altered state of brain wave that we often feel just as we are about to fall asleep. It is between being awake and asleep and is a relaxed and comfortable aware state.
STRESS MANAGEMENT
Stress can make you ill, ruin your family life, cost you your job and your self respect. It is important to learn skills to overcome the pressures it presents. It is never too early to begin.
NATUROPATHY
As a natural therapist I can help you become empowered for your health. Learn how to look after your gut, have more energy, raise your immune system, de-stress and relax. Within a relatively short time you can make many positive changes and be feeling great.
ONLINE SERVICES
Too busy for a consultation? Why not try our online services? For a yearly membership fee of $100 you can gain access to all kinds of online advice.
WORKSHOP AND SEMINARS
Specifically designed programs to meet your corporate needs on ways to decrease employee sick days, reduce staff turnover, promote common goals and teamwork, increase staff loyalty and motivation.
PERSONAL SERVICES
Like most people, you may not realise you suffer from stress or some underlying illness, which will not manifest itself until later in life. Often, most of the above symptoms come from being stressed and that is why it is called the silent killer. A lifetime of stress can hamper weight management, disrupt sleep, lower immunity, lead to serious illness, ruin relationships, cost you your job and even your self respect. So it is important to learn skills to overcome the pressures it presents.
CORPORATE SERVICES
Our techniques make the picture of the tired, rushed executive who has quick lunches, long hours and rushed deadlines, a thing of the past. We follow the lead of many USA and European companies by implementing new strategies to increase your position and profitability in the market place.
---
Give us a call now on 0414680713, for more information or to book your first consultation.

---
Nutrition and Naturopathy mini course
16hr
Naturopathy
Nutrition
Naturopathy Online
Nutrition Online
A course training you in the underlying basics for nutrition and naturopathy to help you understand how to be healthy and assist others to do the same. Certificate on completion for CPE points also.
Energy healing and body scanning
3hr
Energy Healing
Spiritual Healing
Energy Healing Courses
Energy Healing Online
A beginning course in how to expand your intuition, apply energy healing, scan body energies and create greater harmony and health. Certificate on completion and earn CPE points.
We're open 5 days.
| | | | |
| --- | --- | --- | --- |
| Tuesday | 10:00 am | To | 8:30 pm |
| Wednesday | 10:00 am | To | 8:30 pm |
| Thursday | 10:00 am | To | 8:30 pm |
| Friday | 10:00 am | To | 8:30 pm |
| Saturday | 10:00 am | To | 5:00 pm |
Qualifications
Reiki Master
NLP Practitioner
Hypnotherapist
Naturopath
Nutritionist
Theta Healing
Reiki Teacher
Professional Membership
ASCH - The Australian Society of Clinical Hypnotherapists
ACA - Australian Counselling Association
ATMS - Australian Traditional Medicine Society
Complementary Medicine Association
ABNLP - NLP Association of Australia
HCA - Hypnotherapy Council of Australia
Reiki Australia
AHA - Australian Hypnotherapists Association
Australian Board of NLP
AUSTRALIAN NATIONAL HYPNOTHERAPY REGISTER
---