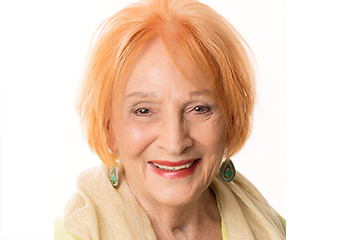 Annie O'Grady, Certified EFT Practitioner and Master Trainer
Clicking on the Send Me Details Now button opens an enquiry form where you can message Annie O'Grady directly
Send Me Details Now
Hello! Whatever you are looking for, you could find it here.For peace of mind, body or heart - for new inspiration and vitality
Annie O'Grady, Certified Practitioner, Trainer, Author
Servicing area
Australia-wide with sessions anywhere.
---
Focus areas
Hypertension
Dissociative Identity Disorder (DID)
Divorce / Separation
Adjustment issues
Parenting
Phobias
---
---
What is Emotional Freedom Techniques (EFT tapping)?
EFT tapping is a leading-edge stress relief technique backed by more than 100 scientific studies. You can easily learn to tap away everyday stresses yourself. EFT practitioner help can relieve more complex anxieties, performance difficulties, chronic physical pain, and many more problems.
You will be tapping on acupuncture points (no needles) and saying a few words. University research rates EFT tapping as 3 to 6 times faster than traditional therapies.
What results have my clients had with EFT Tapping?
I've successfully assisted people to use EFT to improve or eliminate a huge range of personal difficulties whose common factor is stress or limitation, among which are:

abuse and trauma effects, physical pain and symptoms, relationship troubles, divorce and separation stress, business difficulties (performance, anger management, fears of success/failure, personal conflict, cold calling reluctance, career changes, etc.), anxiety states, depression, self-esteem, phobias, dyslexia, exam and performance nerves, childhood conditioning, performance stress, etc.
---
EFT INTERNATIONAL-approved Certificate courses
2023 Adelaide weekend EFT Tapping Trainings
Venue: Fullarton Park Centre, Fullarton
---
Certificate Level 1
February 11 & 12, 2023, Early Bird by January 8, 2023, $395, full investment $495
June 17 & 18, 2023, Early Bird $395 by May 14, 2023, full investment $495
---
Certificate Level 2 (must have Level 1 Certificate)

March 24 (eve.), 25 & 25, 2023, Early Bird $495 by February 28, 2023, full investment $545
July 28 (eve.), 29 & 30, 2023, Early Bird $495 by June 28, 2023, full investment $545
---
About Me
EMOTIONAL FREEDOM TECHNIQUES. I'm a qualified EFT practitioner and master trainer. I've helped thousands of people to quickly tap away stress and limitation of all kinds and so improve their lives, around Australia and beyond, since I began specialising in this self-help stress release technique in 2006. I am privileged to train members of the public and aspiring practitioners in EFT Tapping, through EFT International (which is standardising EFT training around the world).

My DIY book Tapping your Troubles Away with EFT describes how to do basic EFT Tapping, contains lots of case examples, outlines some of the scientific studies on EFT, and tells of EFT's short history since U.S. engineer Gary Craig developed it in the mid-Nineties. The book is available to view or buy online via my website www.eftemotionalhealing.com.

I've worked with individuals and groups, and taught natural, non-drug therapy practices to release stress and inspire yourself, for many years, around southern Australia in person, and nationally and internationally on Skype, now Zoom. So I bring an expansive field of study and experience to the tapping techniques. (This includes specialised transpersonal, or spiritual, modalities, out of which I also offer Past Lifetimes Therapy sessions.)

I've contributed a chapter to the U.S. textbook 'Clinical EFT Handbook', Vol. 1. This book describes EFT's 48 techniques. EFT is an approved modality for U.S. psychologists, doctors, nurses, social workers to learn as Continuing Professional Education within the conservative American Psychological Association. It is also approved for trauma treatment by the U.S. Department for Veterans Affairs.

I love assisting people to heal and prosper and to do MORE for themselves. Also I provide experienced EFT support for any difficulties. Effective as self-help EFT is, tapping beginners cannot handle every life problem alone.

It is so important for us to find out for ourselves that emotional healing often improves our physical health too. New scientific studies show the chemical and energetic connections of stressful thoughts, beliefs and attitudes with our physical bodies and illhealth, moment by moment throughout our lifetime. Eliminating negativity through tapping away stress enables our positive thoughts to nurture our health as well as making us feel better. The words I most hear at the end of a tapping session are 'This is amazing' and 'I feel lighter'.
---
Take Control Of Your Health and Happiness & Book Your Session Today
---
Qualifications
Author of 'Tapping Your Troubles Away with EFT'
Contributing author to U.S. textbook 'Clinical EFT Handbook' Vol. 1
Cert. Master Trainer EFT INTERNATIONAL
Cert. Advanced Practitioner EFT INTERNATIONAL
Cert. 'Tapping Out of Trauma'
Cert. Matrix ReImprinting with EFT
Cert. Alpha RePatterning with EFT
PROFESSIONAL ASSOCIATIONS
EFT INTERNATIONAL
International Institute for Complementary Therapists
Emotional Freedom Techniques (EFT tapping)
1hr
Emotional Freedom Techniques (EFT)
Accelerated stress release acupressure-and-mindfulness technique. Faster, gentle, safe emotional and physical relief. Practitioner assisted, also self-help. Private sessions, workshops, training certificate courses (EFT INTERNATIONAL).
Past lifetimes regression therapy
2hr
Your own personal experience of a relevant other lifetime that may be influencing this lifetime, along with healing adjustments to improve your life now.
Qualifications
Belief-changing
Srress Relief
Tapping
Wellbeing
Dreamwork
Bereavement
Panic Attacks
Bad Memories
Emotional Relief For Serious Illness
Emotional Recovery After Serious Illness
Past Lifetime Regression
Hypertension
Self Esteem
Personal Growth
Dissociative Identity Disorder
Work Stress
Cravings
Mentoring
Anger Relief
Family Problems
Matrix Reimprinting Practitioner
Alpha RePatterning Practitioner
EFT Advanced Practitioner
Eft International Master Trainer & Advanced Practitioner
Depression
Chronic Pain
Phobias
Gentle Trauma Resolution
Burnout
Anxiety
Relationship Problems
Emotional Overeating
Divorce/separation
Mindset
Tension
Emotional Trauma
Practitioner Training
Overwhelm
Professional Membership
IICT - International Institute For Complementary Therapists